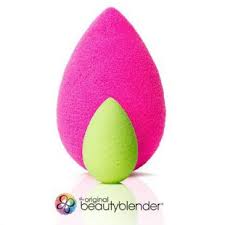 When I first tried the Beauty Blender is was BIG NEWS! I had been converted to using a sponge!! Ok well not entirely. My favourite toy in my kit will always be my airbrush, but when it comes to blending out concealer before I spray I had always been a brush girl. And it's been that way for two decades ago! Having never been able to re-create the same flawless skin finish with either my fingers or those stupid triangle sponge thingys, I was reluctant to give the Beauty Blender a go. I mean come on… it's just a sponge!!
But I was wrong! This perfect little hot pink, egged shaped wonder makes applying the perfect foundation base so quick and easy. It's brilliant for both personal and professional use and I have to say I have been super impressed with how easily it helps pimples, scars, pores and even fine lines disappear. (Assuming you're using a half decent primer and foundation to begin with.) It feels lovely in the hand and all my clients have commented on how soft it feels on their skin. It comes in a bunch of colours and there is even a super tiny mini version for even more precise application. These little babies are meant to be used WET so give them a good soak and squeeze first and then use a press and roll technique to get a beautiful finish. They work beautifully with both my Urban Decay and IRIDIS concealers.
At AUS$30 for just 1 sponge it is a lot to pay, but then it really is SO much more than a just a sponge. The Beauty Blender is washable and reusable and if you lovingly care for it using its very own Solid Cleansing Bar, it will reward you with a perfect base many, many applications into the future.
Available in store or online at Sephora and Crush Cosmetics this is definitely one to use both in the kit and at home!!