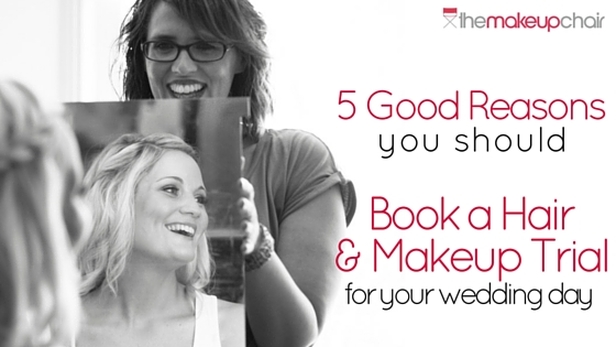 At themakeupchair we believe that our bridal clients will benefit from having a hair and makeup trial before the big day. But if you are a super relaxed bride, or just want the 'I did it myself' look, then you may be wondering is it really worth it, or is it just another expense to add to the wedding day list??
1. Not all hair is the same – Do you know if your hair will hold a curl? Will you need a roller set or tongs? Will the condition, texture, length allow you to achieve that amazing style you love? All of these are really important questions and ones best not left to your wedding day.
2. Not all skin is the same – While any makeup artist worth their salt will only use the best quality professional products, that is still no guarantee it will work with your skin or won't cause a reaction. Best to test those products well before and eliminate any risk of blotchy foundation or worse, a bad reaction on your wedding day!
3. Not all artists are the same – This goes much further than to just say some artists are more talented or experienced than others. The trial is your opportunity to suss out more than just their talent. Is your artist attentive and considerate of your needs and feelings? Have they been able to convert your abstract descriptions into your perfect style? Are they calming and easy to get along with? How your artists make you feel is just as important as how they make you look. Let's not add to an already highly emotional day by spending most of it with someone you can't get along with.
4. Plan & prepare – During the trial your artist will determine how long they need to get you ready and exactly what products and tools they will need to use, ensuring every little detail is planned for a stress free day.
5. Feel confident – Once all that other stuff is sorted then you can just simply sit back and let your stylist take over while you focus on enjoying this incredibly special moment with your loved ones.