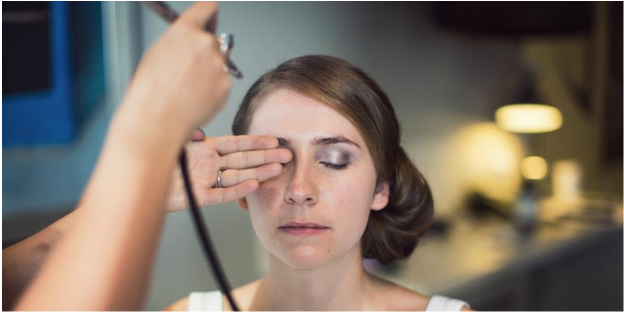 So what is airbrush makeup and what is all the fuss about?
Is it really any better than a liquid or cream foundation? Does it last any longer and can it cover spots without looking caked on?
For anyone new to airbrush makeup there are questions, so I just wanted to give you a little lowdown on the subject to help you decide if this technique is right for you.
So what is Airbrush Makeup?
Ok so basically it is a method of spraying makeup on to the skin. Technically a small air compressor uses gentle air pressure to push the super fine liquid makeup through the nozzle of the 'gun'. The result is a super fine mist of makeup that can be as sheer or full coverage as you want. The makeup itself is super highly pigmented (has lots and lots of colour) which means you don't need a thick layer to get great coverage. Awesome right? No more heavy cakey foundations!! Generally the application process is super quick and with the right skin prep it will hold up while you bawl your way through your vows (speaking from experience!)
​
But is Airbrush Makeup Better?
Now that depends on who you talk to. Really airbrushing is simply a technique just as applying foundation with your fingers is a technique or with a brush is a technique or with a sponge is another technique. And every artist has their own preferred technique. One they have mastered by doing it over and over again for years! So here's the truth….it's not the technique that's better…it's the artist and their product. Boom!! There I said it!!

​This image gives you a bit of an idea about the way the foundation is laid onto the skin with each different technique but I do have to say that it isn't an entirely accurate representation. A talented artist will easily create a beautiful finish with either brush or sponge and some mad blending skills. Also the Beauty Blender, which I reviewed HERE, certainly wouldn't give this splodgy effect but some of the older latex sponges would. What I do believe though is that with either sponge or brush a little more attention and elbow grease is required to blend it just right.
Personally I LOVE airbrushing! For me it is a super fast way to create a beautiful flawless finish. It lasts brilliantly well up to the last dance of the evening and I haven't yet found a face that I couldn't use it on. In fact I will use it on everyone that allows me to. My go-to ranges are the vegan water-based offering from Obsessive Compulsive Cosmetics with is kind to sensitive skin and gives a slightly matte, real skin look or the silicone based Element2 which is awesome on super dry and mature skins and provides a more dewy finish.
At the end of the day though it really doesn't matter which technique is better. What is important is that you choose a makeup artist based on their skill, experience and their ability to translate your ideas into the perfect look for you because a great artist can do that no matter what technique they use.

Photo Credit: www.schuchphotography.com.au/